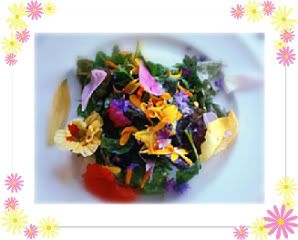 Edible Flowers Add Colour to Beltaine Feasts
©
Shauna McShane
Beltaine celebrates the spring, fertility, and the union of the Goddess and God. Dancing around the May Pole, wearing wreaths of flowers, and washing your face in the May morning dew are all traditional activities for this Sabbat. Another tradition is harvesting flowers. These flowers are used to decorate the May Pole and make wreaths-but they can also be eaten.
Edible flowers are a fabulous way to celebrate the spring time through cuisine. I remember when I was young, my Grammy would make candied violets. I was fascinated by these delicate and sweet treats, and always wanted to learn how to make them. My Grandad would walk my sister and I through the acres of gardens they had, picking blooms off this plant, and leaves off that, having us taste each one.
Easy ways to start using flowers in your cooking are the flowers of chives and garlic. They have a milder taste than the plants they sprout from, and can be found in supermarkets. They are lovely for a garnish in salads, soups, and even on cheese and cracker platters.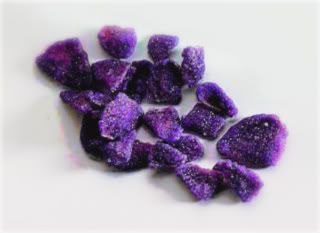 Some blossoms are wondrous when they are candied. The make great garnishes for dessert trays, cakes, pies, or fruit platters. Some of my favourites include apple blossoms, Johnny-Jump-Ups, violets, and rose petals. Most of these are easily obtained, or grown in your own garden. Here is an easy recipe to candy these blossoms:
1 egg white
Finely ground granulated sugar
Various edible blossoms
Thin artist's paint brush
Paint the blossoms with the egg white, then sprinkle with the sugar. Place on a wire rack to dry. When they are dry, flowers should be brittle to the touch. Store in the freezer in an air tight container for up to six month.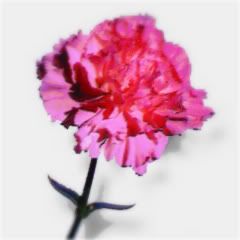 For some more colour in your culinary delights, add some of the more brightly hued flowers in your garden. Carnations are delectable, just cut the flower away from the bitter bottom part. They can be steeped in wine, added to salads, or garnish a cake.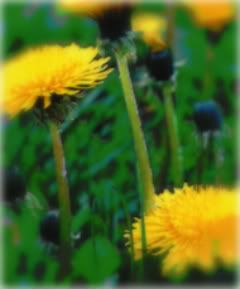 The weed that drives gardeners' crazy is wonderful in salads. Dandelion leaves have a slightly bitter, but refreshing, flavour. The flowers are edible as well, and should only be picked when they are young, and just before eating them. The flowers are deliciously sweet, but the buds are even better.


Nasturtiams are beautiful and hearty flowers. The blossoms have a distinct peppery taste, and are fabulous with mixed greens, in sandwiches, or stuffed when they are slightly open. Another flower that is great for stuffing is the tulip. Fill with egg or chicken salad for a colourful addition to a buffet.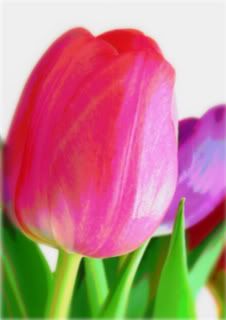 Another fun idea is to put edible blossoms into ice cubes. Just fill the ice cube tray halfway and freeze, then add the blossom and press into the ice. Fill the rest of the tray with water, and freeze again. These look lovely floating in iced tea or lemon aid.
Beltaine is a perfect time to introduce edible flowers into your culinary delights.
Here are some do's and don'ts of edible flowers:
DO:
Make sure the flower hasn't been sprayed with pesticides.
Wash all flowers thoroughly before eating them.
Introduce flowers into your diet slowly to avoid digestive problems.
Remove pistils and stamens from the flowers before eating them.
Eat only the petals of the edible flower, unless it is otherwise confirmed the other parts of the plant are safe to consume.
DON'T:
Eat flowers from florists, nurseries or garden centers, as these are treated with pesticides. (There are some exceptions, though, if the company is organic)
Eat flowers from the side of the road, as these could be treated with pesticides as well.
Eat a flower unless you are CERTAIN it is edible. If you are unsure, do not eat the flower.
Eat flowers if you have an allergy to pollen, as this will only aggravate your allergies.