It's time I try to start getting the meds weight off me. So what a "crazy random happenstance" (See: Dr. Horrible) that there is a blog project called "Bloggest Loser". Check it out here: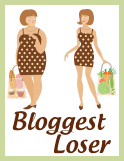 So, a bit about my weight.
A couple years ago I started having health issues. Abdominal pain--severe, to the point of vomiting and blacking out. I had other issues, like losing the feeling in my feet, pain in my back, skin tender to the touch, etc.
Well, I was seeing a wacky doc and a wacky gyne. Rather than checking, they put me on loads of estrogen, presuming I had endometriosis (since it runs in the family). I gained 60 lbs in 3 months from the hormones. I was put into a chemical menopause.
Fast forward a bit, and I finally see a doctor that can figure me out. I have Chronic Diffuse Pain Disorder (like
Fibromyalgia
, only worse), having random nerve spasms in my legs (causing me to fall), the blackouts were my body's way of dealing with the pain. I also have
Degenerative Disc Disease
,
Degenerative Joint Disease
and a myriad of other issues (chronic vertigo being one). I also have a cyst on my lower spine.
Got a new gyne who found out I have
PCOS
. Now, estrogen is the WORST thing someone with this can take. So my gyne actually did a laparascopy on me, found cysts and drained them. So now I have the
Mirena
inserted, and I'm doing better that way.
Luckily, I've plateaued at 210lbs. I'd like to get down to 155lbs, but plan to make my goals small steps. First, I'd like to be at 200lbs. :)
My biggest issues I need to work on:
1) Not eating! This is sooooo bad if you're trying to lose weight. It slows your metabolism. I ALWAYS forget to eat. Grrrr.
2) Carbaholic. I love carbs--bread, cookies, cake, etc. I make them, I eat them, I love them.
3) Lack of exercise. Granted, I'm physically disabled, but I'm going to do the
Exercise TV
, and I've downloaded a lot of fitness vids, not to mention my Carmen Electra striptease DVDs and other exercise vids. I just have to be careful not to over do it. :)
Looking forward to this. :) Yippee!