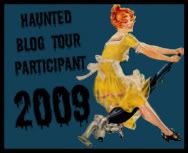 Hello all! Nice to see you journeying from Mrs. B's home on the interwebs to come visit my wee abode over here at Hedgewitch Hollow.
I've been TERRIBLE at keeping up on posts lately. Too much going on. Between school, working makeup jobs, dealing with a broken toe, working on items to go into my
friend's store
, and trying to get my Hallowe'en costume all together, it's been hectic around here!
I guess I can tell you a bit about me.
I'm 29, disabled, a red head, and plus sized babe. :) I love to Craft and craft, read, write, do makeup, go to school, play on the Wii (which we JUST got), hang with my family and friends, and play with our cats (Rackham and LaVeau).
Currently I'm going to the local college for Makeup Artistry and Applied Cosmetics. I work freelance on occasion as a makeup artist--mostly for special occasions and Hallowe'en.
Religiously, I am a Hellenic Hard Polytheist (meaning I believe each God is Their own separate entity, and I worship the Greek Pantheon), and a Hekatine Witch (a Witch who honours Hekate). I also worship Pan. I have an interest in all types of Traditional Craft (from Pellars, to Cunningfolk, to Cornish Witchcraft, British Traditional Witchcraft, and much more). I also practice Hoodoo. Yep, I'm quite the Pagan Mutt. :)
I live with my man and our two cats, and often hang out with his cousin (and now his girlfriend, who is ULTRA COOL!), my "hetero life mate" and her husband. I also have a few other really close friends, and talk to my twin sister at least every day on the phone (she works a lot, so we don't get to hang out much).
Some of my favourites:
Colour:
Black, red and leopard print
Food:
Red meat. Yum yum! A good steak never goes unappreciated around here.
TV Show:
Supernatural and True Blood.
Movie:
Too many to choose from.
Holy Day:
Halloween, Hekate's Feast, Nemoralia, Christmas Eve
Author:
Andrew M. Greeley
Makeup line:
TKB Trading and Coastal Scents
Season:
Autumn
Drink:
Tea
Dessert:
Anything pumpkin or chocolate.
Video Game:
Hunter: The Reckoning is my current fave, followed closely by Soulcaliber
I guess that's it. I don't want to bore you. So off you go--don't forget to read the guest blogger and sign up for the giveaways!!!!