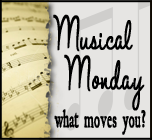 Been a while since I did a post on Music Monday! So, here we go!
My sister discovered the world of
Twitter
, and that having a Blackberry (which she needs for work) that she can access it ALL THE TIME. So what did she use this ultimate power for? Winning awesome stuff, of course!
First she won a
Finger
Eleven
prize pack. For those of you who don't know, I'm a big
Finger Eleven
fan, and my sister is a TOTAL goober for
F11
(and
Blackie Jackett Jr
., a side project of two of the F11 guys).
THEN she won tickets to
THREE DAYS GRACE
! So we're going to the concert on Thursday the 17th, and we get to do a "meet the band during sound check" thing. Cool, eh? Even though we'll likely be 15 years older than their average fan...LOL! I've always been a "casual fan" of their music, but finding out about going to the concert and meeting them, I looked into their history (so I'm not a total goober when I meet them).
I discovered that the lead singer,
Adam Gontier
, is a recovering addict to oxycontin. A lot of the songs on their second most recent album (the one most people would recognize,
"One-X"
) were written while he was in rehab in
CAMH
in Toronto, Ontario.
So after finding that out, I watched
"Behind The Pain"
** on
YouTube
, which was a look at his addiction and recovery.
I have a new found respect for their music, as a recovering alcoholic (specifically, a binge drinker), and a recovering cutter (I did it from the age of about 9 or 10 until I was 17...I hid it, unlike the Emo Kids of these days who think it's "cool", and at stressful times have a hard time not relapsing--it's actually harder to control than the alcohol).
I remember when I first got sick, when I was going through leaving alcohol completely behind in favour of meds to make me feel better. Of getting used to living as a person with multiple medical problems, and hearing the song
"Pain"
from the albume
"One-X"
by
Three Days Grace
. It spoke to me, about the physical pain I was in, the emotional pain, the pain and strain in my relationship (which, I have to say, is now stronger than ever), the pain of being bipolar for so many years and not being properly diagnosed. So here is the video for that, for Musical Monday:
And here is their newest video,
"Break"
from the album
"Life Starts Now"
:
(** "Behind the Pain"
Part Two
,
Part Three
&
Part Four
)

Come join Music Monday and share your songs with us. One simple rule, leave

ONLY

the actual post link here. You can grab this code at LJL Please note these links are

STRICTLY

for Music Monday participants only. All others will be deleted without prejudice.






PS: Because of spamming purposes, the linky will be closed on Thursday of each week at midnight, Malaysian Time. Thank you!