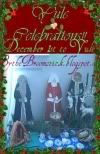 I am participating in a Yule blog party, hosted by Aisha at
BY THE BROOMSTICK
. She will be sharing recipes, decor ideas and photos, and other fun Yule tidbits. So, I'll be doing the same here from today (okay, technically yesterday) until the 21st of December.
Today, I am sharing photos from 2 years ago. Our house looks different now (new TV--the 1980s one you'll see here died; new book shelves, reorganized, etc.). So it's fun to see a blast from the past!
One of the side tables, with a basket of candy canes, fake holly, lots of Christmas magazines, and gargoyles.
The centre piece for the dining room table. Kind of sad, I know.
Another side table, with the plant stand behind it. The cool candle holder is gone (ex-roomies'), an inherited Christmas doily, gargoyle, dragon and talking reindeer, with a candle holder.
The old television! We hung the stockings on the side of it, and had The Man's tall Santa collection on it, along with gargoyles, pine cones, and faux poinsettias around a candle holder.
The fake holly vines around Hylas and the Nymphs print. I thought it brought some Yuletide cheer to an otherwise sad painting.
The Man decorating the tree. This was the year we got a real live tree, which I proceeded to kill (if the plant isn't outdoors, it dies on me--I have a black thumb). At the time, we had 2 or 3 bookcases on that wall, and pushed the long coffee table in front of them to hold the tree (so the cats wouldn't get at it).
Checking how it looks with lights and the "garland" (wide ribbon).
All decorated! Lots of home made decor, handed down decor, and a moon at the very top!
That's it for today! I hope you enjoyed a blast from the past (2008). I can't believe it's been two years! I'll definitely have photos of our Holiday decor this year up whenever the decor gets done!