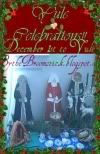 Here we are at Day 2 of the 21 Days of Yule! I'm going to share one of my FAVOURITE cookie recipes. I think I originally found this on
ALLRECIPES.COM
, but have adjusted it over time to my personal taste.
Amish Ginger Cookies
Ingredients:
3/4 cup butter, softened
1 cup granulated sugar
1 egg
1/4 cup unsulfured molasses
2-1/2 cups all-purpose flour (plus extra to flour your hands)
1-1/2 teaspoon baking soda
Ground ginger to taste
Ground cloves to taste
Ground cinnamon to taste
Granulated sugar in a bowl (about 1-1/2 cups)
What You'll Need
-glass mixing bowl
-whisk or electric hand beater (I prefer the electric--so much easier!)
-baking sheet
-oven (well, duh!)
-measuring cups
-small bowl
-spatula
-wire cooling racks
-clean hands!
Directions
Preheat oven to 350 F.
In a glass mixing bowl, beat together butter and 1 cup of sugar until the mixture is creamy. Add molasses and egg and beat until combined well.
Add flour and baking soda and mix until well combined. Here's the fun part: add the ginger, cloves and cinnamon. As much as you like. I like LOTS of ginger and cinnamon and a little cloves. For those who like precise measurements, you can add anywhere from a teaspoon to a tablespoon of each.
Now flour your hands and roll the dough into 1 inch balls. Take the balls and dip into the bowl of granulated sugar, rolling it around until covered. This gives the finished product a bit more sweetness and crunch on the outside, while staying chewy and soft on the inside.
Place balls on ungreased baking sheet. Bake for 7 to 9 minutes until barely turning brown. Remove from oven and allow to cool for 5 minutes on the baking sheet. Remove cookies with a spatula to wire racks to cool completely.
Now eat your yummy creation!
Magical Correspondences
Now for the magical part!
Molasses is often used in magical working to sweeten things up--a LOT! It is common to use in a "Honey Jar" working if you need something sweeter than honey.
Ginger is used for protection, fiery love spells, success spells and healing.
Cinnamon is great for psychic abilities and visions, not to mention heating up lust in men. It can also help people focus.
Cloves are a great spiritual force! They drive away negativity, banish hostility, and then produces spiritual vibrations and can purify a ritual area. It's also said to attract prosperity and the opposite sex.
Perhaps these should be called "Sexy Molasses Cookies" instead! :)